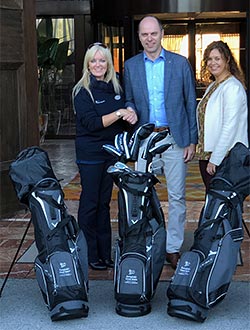 Golfers heading to Malaga in search of warm weather can benefit from new top-of-the-range rental clubs when staying at the five-star Kempinski Hotel Bahía, in Estepona.
The luxurious hotel has struck a deal with Clubs to Lease - an offshoot of the market-leading rental agency Clubs to Hire (CTH) - to lease sets of Callaway Rogue clubs for guests to use when playing in the area.
The Clubs to Lease concept was launched by CTH earlier this year - and it makes sound economic business sense. With lease costs on TaylorMade and Callaway product from as little as €55 per month, clients can recoup their outlay through just two 'hires' per month. Plus, they know they will have new replacements every 12 months, while not having to pay the normal purchase price for a set of top-of-the-range clubs.
The Kempinski Hotel Bahía is the second client in the Marbella region, while Clubs to Lease has also secured other business in Spain, and remains in discussion with a number of other potential clients in the region.
Company co-founder Tony Judge explained: "It's not a dissimilar service to the one we provide for golfers - the difference being that, ultimately, it's our client who deals with the visiting golfer. It makes sense for hotels and resorts, not just as an added benefit for guests, but also as an additional revenue stream."
Axel Bethke, general manager of the Kempinski Hotel Bahía, said: "The speed of service from Clubs to Lease is much appreciated and I can only compliment the company on the quality of the product provided. We are looking forward to working with Clubs to Lease even more closely in the future."