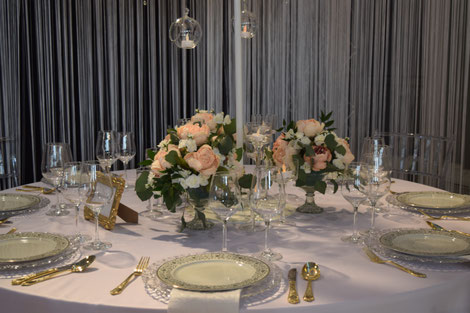 Nestled on the banks of the Thames River in Dorchester, Ontario, Canada, just East of London, Ontario, you will find an extraordinary gem in the making.
2019 promises to be a year of wonderful meals, challenging golf, and fun filled golf classes and summer camps for kids at the "New" Dorchester Golf and Country Club.
The Poley family has taken on the challenge of re-branding and re-making this golf destination into one of Southwestern Ontario's "gotta play" locations; and they've done it!
What makes this place so special? First, it's the renovated clubhouse, with new floors, chandeliers, and furniture with a European décor, redesigned by an expert design team to enhance Bild: Rehart               your dining experience. Second, after enlarging the kitchen, they hired one of London's top chefs, culminating in the creation of the area's newest culinary destination known as "Dining on the Thames".
Finally, the course itself is in the process of being enhanced to incorporate the newest trend in the golf industry - that being an outstanding 12 hole course, with 3 par 5's, 5 par 4's and 4 par 3's. Perfect for a quick, but challenging round to go along with a delicious meal from thethe expert chef.
Ladies league will be held on Tuesdays with the Men's and Senior league on Wednesdays.
Looking to boost your game? Dorchester Golf and Country Club will conduct game improvement classes for adults, lead by the Fanshawe Golf Coaches School, twice monthly, along with kid's golf enrichment lessons and summer camps throughout the season. Private lessons are also available anytime from the best coaches in the area.
A special offer for 2019 is all kids who attend any of the golf enrichment lessons or summer camps will receive a Fanshawe Golf Coaches School Playing Card that will allow them to play absolutely free when playing with an adult.
With emphasis on a great golf experience and outstanding food, what else is in store for the Dorchester Golf and Country Club?
Here's what General Manager, Matthew Poley has to say: "We are redefining what a country club can offer your family!" "We have created a beautiful lounge in the lower level that offers a sauna and 4 deep tissue massage chairs, available to use any time before or after your game.
We have also added a fitness centre to strengthen your body and build your confidence." "Our outstanding chef will be creating monthly, seasonally inspired, set menu feature dinners, in addition to his daily, mouth-watering creations. All complimented by our great selection of wine, whisky, and even cigars!" "Follow us on Facebook and Instagram, or visit our updated website, to get more information about our daily specials and events!"
The Dorchester Golf and Country Club is quickly becoming the go to place for spectacular meals and a challenging golf course. Whether in the clubhouse or on the course, you'll be drawn in with the views of the Thames River and the greens are impeccably maintained by an English born, European trained, greens keeper that haswith British Open experience.
This is a wonderful venue to plan weddings, banquets, business meetings or tournaments.
You will find the experienced personnel tops in their field, with customer service second to none. These folks are doing it right!
We highly recommend the Dorchester Golf and Country Club as a place you can have a great time playing golf, experience all the amenities such as massage chairs and a fitness centre, and enjoy a delicious dining experience, all at a price that won't break the bank!