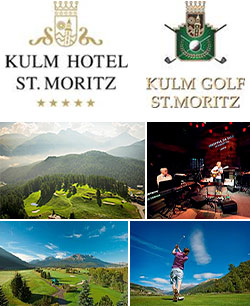 The Kulm Hotel St. Moritz / Frankfurt  is offering golfers who love music a perfect holiday combination this summer with a range of stay and play packages that coincide with the annual Festival da Jazz, which takes place in St. Moritz from July 4 to August 4.
During the day, golfers can take to the fairways of the Engadine Valley, one of the most spectacular places to play golf thanks to stunning Alpine panoramas of verdant valleys and dramatic mountain backdrops, whilst in the evening they can enjoy a wide spectrum of performances to suit all tastes at the Festival da Jazz.
The two or three-night golf packages offer unlimited access to the 9-hole Kulm Golf St. Moritz within the hotel's grounds and one complimentary green fee either at Samedan, which recently celebrated its 125th anniversary, or at the nearby course at Zuoz. Daily breakfast buffet and Gourmet Dine Around (halfboard) is also included, whilst all Kulm guests have unlimited access to the hotel's extensive spa facilities and tennis courts as well.
The highlights of this year's Festival da Jazz include a free concert by a capella choir Ladysmith Black Mambazo (who gained worldwide recognition through Paul Simon's Graceland album), Latin sounds from Gilberto Gil, American jazz pianist Chick Corea and eclectic violin pieces from Britain's Nigel Kennedy.
As one of the official hosts of the Festival, the Kulm Hotel is staging many of the shows within its grounds at the legendary Dracula Club and free intimate after-show sessions at its Sunny Bar, Switzerland's oldest sports bar, which is the perfect spot for a nightcap while listening to great live music.
The Kulm Golf St. Moritz, established back in 1891 as the first 9-hole course in Switzerland, weaves its way in and out of pine forests and along a section of the Olympic Bobsleigh run whilst several tees give breathtaking vistas over Lake St. Moritz and beyond.
Standing at 1,860 metres above sea level, the Kulm Golf St. Moritz's mountainous location ensures a few elevation changes making it physically challenging, though refreshment is close at hand at the hotel's Chesa al Parc restaurant,  located just a few metres from the 9th green.
Samedan, opened in 1893, is a classic parkland course with a touch of links that in the main runs along the valley floor, although the course does offer some gently undulating holes. It is characterized by broad fairways flanked by ancient, giant larch trees, some of which are over 700 years old, whilst numerous water hazards made up of ponds and streams ensure it is a testing challenge of golf. Samedan is just a 10-minute drive from the Kulm Hotel St. Moritz.
In 2003, these two courses were joined by the Zuoz-Madulain layout – or simply Zuoz – just a
20-minute drive from St. Moritz. Despite being a relatively young course, the combination of testy undulating fairways, multiple elevation changes, receptive greens and its attractive setting within alpine meadows and thick pine forests have made it extremely popular with golfers.
The Kulm Hotel golf package options, where prices for a two-night stay start from CHF580 per person and for three nights from CHF810 per person (available until September 1), include:
2 or 3 nights, including sumptuous breakfast buffet and daily Gourmet Dine Around (half-board)
Complimentary green fees at the 9-hole Kulm Golf St. Moritz
1 complimentary green fee at Samedan or Zuoz golf course
From the 4th night, green fees at Samedan or Zuoz are complimentary
Unlimited access to the Kulm Spa St. Moritz
Unlimited use of the hotel tennis courts 
Unlimited use of all open mountain railways in the Engadine/St. Moritz region and public transportation in the valley (bus and Rhaetian Railway)
*valid on request and subject to availability; additional nights can be booked with price on request; a surcharge of CHF25 will apply over the weekend (Friday and Saturday)            Subject to change