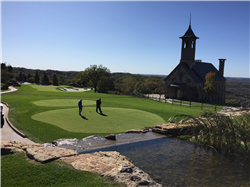 It's currently under construction and will be the first public venue to open by Tiger Woods and his golf architecture firm (TGR Design) – it will include an uncommon 19 holes, bringing to four the number of different hole totals found at various layouts in the destination.
Most courses have the widely accepted 18 holes, a lesser number have just nine, which many players view as substandard or "incomplete." Branson breaks the mold with a 13-hole course (Mountain Top), a 9-hole course (Top of the Rock), and the soon-to-open Payne's Valley (19 holes).
Add that Thousand Hills is a compelling par-64 design, deviating significantly from the most common par-72 configuration, and the destination supplies more playing variety than virtually anywhere. Many golf purists dismiss non-traditional courses – courses other than 18-hole designs – as somehow lacking. However, an examination of Branson-area courses counters that assumption.
Top of the Rock (Jack Nicklaus design) is a par-3 course with nine holes. It is played annually as part of Bass Pro Legends of Golf at Big Cedar Lodge, a PGA TOUR Champions event, and the only par-3 course played as part of a PGA TOUR tournament. That it is deemed TOUR worthy, a course played by some of the world's greatest golfers, speaks to its exceptional quality.
A Gary Player design, Mountain Top Golf Course is a walking only site, one where the tee boxes are special in their variety. Instead of the normal teeing areas, where largely ubiquitous sets of markers designate where players begin, golfers choose where they wish to start each hole. Given the size and shape of the teeing areas, this means holes can change dramatically with each choice.
The 19th hole at Payne's Valley is dramatic in the extreme. Named "The Big Rock at Payne's Valley™," the striking par-3 "bet-settling" hole plays to an island green surrounded by streams and waterfalls flowing down millions-year-old exposed limestone walls to close the round. In addition to the abundant Ozarks beauty highlighted at the hole, this special finish concludes the round in memorable fashion.
Those seeking regulation 18-hole courses in the destination have several superb ones from which to choose, including Buffalo Ridge Springs (Tom Fazio design) and Branson Hills (Chuck Smith with Bobby Clampett), rated the top two courses in Missouri by Golfweek in its annual "Best Courses You Can Play by State."
Two other top-notch 18-hole courses are LedgeStone (Tom Clark), which Golfweek rates No. 6 in the state, and Ozarks National (Bill Coore & Ben Crenshaw), which opened to critical praise in April of this year.
Along with Top of the Rock, both Big Cedar Lodge golf amenities, Ozarks National is played during the Legends of Golf. Thousand Hills contains the traditional 18 holes, but its par 64 routing is anything but normal. This thanks to its author, Bob Cupp, a Jack Nicklaus design associate for 15 years before starting his own company. Cupp's esteemed portfolio includes Old Waverly in Mississippi, which has hosted a U.S. Women's Open, and Pumpkin Ridge and Crosswater at Sunriver Resort, both in Oregon and having hosted a PGA TOUR Champions Major and U.S. Amateur Championship, respectively.
While Cupp has earned acclaim for his conventional designs, his unorthodox creations feature unique twists. He built 12 replica holes lighted for nightly play at his Cloud Nine Course at Angel Park Golf Club in Las Vegas. A 2013 renovation of the Plantation Course at Reynolds Lake Oconee added a course within a course: The new "Quick Six" offers a six-hole loop that can be played in less than 90 minutes.