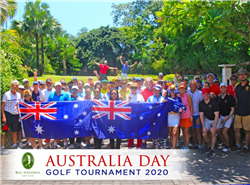 The tournament was not only for Australians, but for golfers from all nationalities to enjoy the celebrations and spirit of Australia Day.
The event was well themed for a true Australia Day experience. The clubhouse was well decorated in red white and blue with players enjoying an Australian favourite Vegemite Sandwiches on arrival and at dinner partaking in the traditional Lamington Cake Eating Competition. On course players competed for novelty games on the course such as "Nearest To The Koala" (Nearest to the Koala themed Pin Flag) and "Hit It Like Jason Day" (Longest Drive) at Hole 7.
This year we received great support from The MAJ Nusa Dua, St. Regis Bali, The Laguna Nusa Dua and Leadbetter Golf Academy who all very generously donated prizes for a charity auction for the bushfire relief in Australia. We are proud that A$8,100 was raised from the auction with funds being donated to the Australian Red Cross Bushfire Relief and Recovery Fund.
"The Australia Day Golf Tournament is now one of our signature events at Bali National Golf Club. The enthusiasm from golfers for the event always amazes us. Players come to the club dressing up in Australia theme and colours and really get into the spirit of the day. There is a lot of laughter and enjoyment from all, regardless of the score on the course. We also would like to say thank you to all players and auction sponsors for all their generous support for the bushfires relief in Australia and also to Turkish Airlines for their Business Class Ticket Lucky Draw Prize" stated Mark Holland, General Manager for Bali National Golf Club.
See you in Australia Day Golf Tournament 2021!