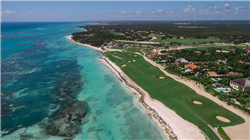 P.B. Dye had an aerial game plan when he met with Frank Rainieri to discuss who would eventually design a new golf course on Rainieri's Puntacana Resort. "I knew Frank was a pilot, and I had also been a pilot. I went into the meeting looking to speak Frank's language," Dye said:
Dye knew that Rainieri was set on maintaining the palm trees lining the center of his resort's southern coastline. Dye believed that by simply relocating those palm trees, Rainieri would own a real estate dream come true.
"I believed that by moving these coconut trees inland about 300 feet, passengers flying to the Punta Cana International Airport, would look down and see the turquoise Caribbean Sea on the left, the new golf course in the middle, and million-dollar homes on the right. Add some white sand to this picture, and I was convinced this land would generate income for Frank's great grandchildren for years to come," Dye recalled.