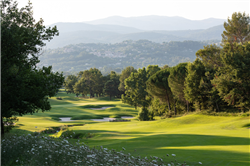 After several weeks homebound and further to French authorities' approval to play golf again, Terre Blanche Golf will be reopening on 15th May.
Terre Blanche, a European Tour Destination, prides itself in offering incredible spaces within an exceptional environment nestled in lush nature and attracts seasoned golfers from all over the world for its top-notch facilities and world-class service. Today, more than ever, guests' safety and that of the staff remains the highest priority. Thus, thanks to stringent health and safety guidelines, golfers can live their passion in total serenity.
From these dates onwards, the following facilities will be available strictly upon reservation : the two 18-hole golf courses « Le Château » and « Le Riou », the driving range and short game facilities, the Terre Blanche Golf Academy for individual lessons, the Biomecaswing Center as well as a the fitting & club repair. « Le Riou » course remains exclusive to Terre Blanche Golf Club's members and their guests. To comply with measures taken by the health authorities, the Club House, clockrooms and bag storage will remain closed until further notice.
To reopen Terre Blanche Golf under the best possible conditions, the resort is taking the highest level of preventive measures and is following a new reinforced health protocol, available on Terre Blanche's website. These measures complement the health practices enforced by the French Golf Federation and approved by the French government. The resort is closely monitoring governement and local authorities policy changes and will continue to adapt its protocols and procedures as when necessary.
Located in the heart of Provence's Côte d'Azur, just 30 minutes from Cannes and 45 minutes from Nice Côte d'Azur International Airport, Terre Blanche's unrivalled location provides the gateway to the Riviera, enabling guests to experience the charm and character of Provence along with the chic ambience of the Côte d'Azur. As a European Tour Destination, Terre Blanche is one of the most outstanding estates in the South of France. The 750-acre luxury resort is a member of 'The Leading Hotels of the World' and of European Tour Destinations, and as the only property of its kind in the region, provides refined hospitality rooted in authenticity and nature.