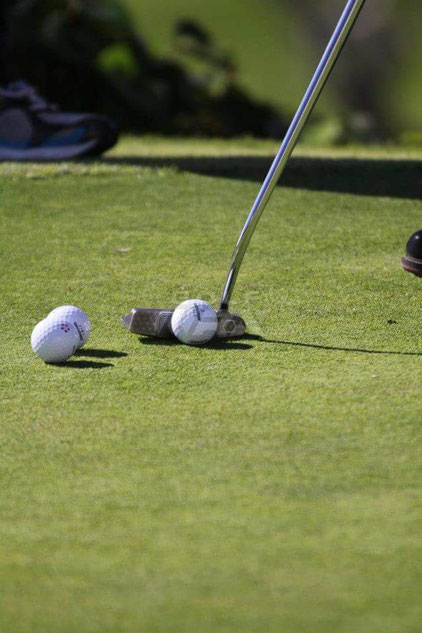 Akademische Kombination
Bachelor-Studium und Professional-Ausbildung
Mit einem absoluten Novum wartet der Golfmarkt in der Saison 2020/2021 auf.

Meldeschluss 6. Juli



Wer im Sommer 2020 den PGA PreCourse absolviert und im Frühjahr 2021 mit der Ausbildung zum Fully Qualified PGA Golfprofessional beginnt, hat erstmals die Möglichkeit, parallel dazu ein akademisches Studium zum Golfmanager aufzunehmen. Meldeschluss für den vor Ausbildungsbeginn obligatorischen PreCourse.Der Studiengang "Sportmanagement Branchenfocus Golfmanagement" beginnt im Wintersemester 2020 und endet nach sieben Semestern mit dem Abschluss "Bachelor of Arts". Die "Hochschule für angewandtes Management" in München bietet den Studiengang in enger fachlicher und terminlicher Kooperation mit der PGA of Germany an verschiedenen Standorten in Deutschland an. Das Studium und die dreijährige Ausbildung zum Fully Qualified PGA Golfprofessional können dabei zeitgleich absolviert werden.

"Dieses Anbot eignet sich besonders für Teilnehmer, die dualkooperativ oder berufsbegleitend studieren wollen. Es wurde insbesondere für all jene konzipiert, die sich in der Ausbildung zum Fully Qualified PGA Golfprofessional befinden und das Studium parallel absolvieren möchten. Wir haben sogar eine gegenseitige Anerkennung einzelner Ausbildungsinhalte vereinbart", so Ines Halmburger, Geschäftsführerin der Aus- und Fortbildungs GmbH der PGA of Germany. "Für ein modernes Unternehmen im Golfsport, in der Sportartikelindustrie, im Vereins- und Verbandswesen, in einer Golfschule oder einem Golfreiseunternehmen ist eine fundierte Managementkompetenz, die auf die spezifischen Bedürfnisse des Golfsports ausgerichtet ist, unerlässlich. Das Studium Golfmanagement bietet genau diese Ausbildung auf akademischem Niveau gepaart mit außerordentlicher Praxisnähe."

Die Absolventen des erstmals angebotenen Studiengangs erhalten das akademische Rüstzeug, um als Sportmanager im Golfsegment zu wirken. Ziel des Bachelorstudiums Golfmanagement ist es, Aufgabenbereiche auf wissenschaftlicher Grundlage selbstständig und anwendungsorientiert bearbeiten zu können. Aufgrund ihrer umfassenden betriebswirtschaftlichen Kenntnisse und der Kenntnisse im Bereich Sport- und Golfmanagement können die Teilnehmer Lösungen für komplexe Probleme entwickeln und implementieren. Den Studierenden wird neben fundierten betriebswirtschaftlichen und Management/ Marketing-Grundkenntnissen branchenspezifisches Know-how vermittelt. Mit den erworbenen Kompetenzen stehen verantwortungsvolle Spezialisten- und Führungstätigkeiten offen.

Grundsätzlich spricht der Studiengang auch alle bereits aktiven PGA Azubis und alle bereits ausgebildeten PGA Golfprofessionals an. Unter bestimmten Voraussetzungen ist es auch möglich, ohne Abitur Zugang zum Studium zu erhalten. Insgesamt ein Angebot, das den Zeitgeist trifft, wie auch Stefan Quirmbach überzeugt ist, der Präsident der PGA of Germany: "Junge Menschen streben heute nach ihrer schulischen Ausbildung ein Studium an. Mit diesem Studiengang gibt es erstmals die Möglichkeit, eine Ausbildung wie die zum Fully Qualified PGA Golfprofessional mit einem Hochschulstudium zu kombinieren. Studium und Ausbildung sind terminlich aufeinander abgestimmt. Dieses Angebot eröffnet völlig neue und ungemein breite berufliche Perspektiven und garantiert sehr hochwertige Career-Pathways. Denn selbst wer irgendwann nicht mehr im Golfbusiness tätig sein möchte, verfügt über eine grundsolide akademische Qualifizierung, die den Zugang zu vielen weiteren Branchen ermöglicht."

Alle Infos zur Fully-Qualified-Ausbildung der PGA of Germany sind auf der PGA Website unter www.pga.de abrufbar, Details zum Golfmanagement-Studium unter www.fham.de.


Karriere-Start mit dem PGA PreCourse 2020
Wer am 1. Februar 2021 mit der dreijährigen Berufsausbildung zum Fully Qualified PGA Golfprofessional beginnen will, muss im Sommer 2020 den PGA PreCourse absolvieren. Meldeschluss hierfür ist am 6. Juli. Dieser obligatorische Einführungskurs bereitet auf die Aufgaben im Golfclub vor, vermittelt Inhalte des Kinder- und Jugendtrainings sowie Grundlagen der Golftechnik und des Regelwerks. Er garantiert damit ein einheitliches Ausgangsniveau aller Azubis. Der PreCourse 2020 beginnt mit einem ersten Seminar im Jakobsberg Hotel- und Golfresort in Boppard (6. bis 9. August 2020); insgesamt müssen drei Seminare sowie zwei Tutorenseminare besucht werden, sodann schließt der Kurs mit der Prüfung zum C-Trainer Golf Breitensport ab. Alle Seminare sind so angelegt, dass sie auch berufsbegleitend besucht werden können.

Die PGA of Germany bildet eine große Bandbreite an Fachkräften für den gesamten Golfmarkt aus. Vom PGA Assistenten, der Einsteiger unterweist, über den Professional und Head-Professional und Leiter einer Golfschule bis zum Mannschafts- und Tourspieler-Coach, vom Manager eines Golfclubs über den Director of Golf eines internationalen Resorts bis hin zur Geschäftsführung von Unternehmen der Golfindustrie: PGA Golfprofessionals sind heute in vielen Sparten des Golfmarkts tätig. Sie sind Landes- und Stützpunkttrainer, in Clubs für das Marketing verantwortlich oder als Experten für die Entwicklung von Hardware oder Software im Einsatz. Als Golfplatz-Architekten garantieren sie sportliche Plätze mit fairem Layout, sie entwickeln Teaching-Aids für Lehrer und Trainingshilfen für Schüler und sind geschätzte Berater der (Golf) Industrie. Mit dem Bachelor-Studium "Golfmanagement" ist es ab sofort sogar möglich, die vorwiegend praktische Ausbildung zum PGA Golfprofessional mit einem hochkarätigen akademischen Studium zu kombinieren.

Am PreCourse kann teilnehmen, wer eine Stammvorgabe von mindestens –18,4 hat und mindestens 16 Jahre alt ist. Absolventen des PGA PreCourses beziehungsweise Inhaber einer DGV C-Trainerlizenz können sodann am 1. Februar 2021 in die Modulausbildung I einsteigen, sofern sie deren Eingangstest, der zeitgleich mit der Prüfung des PGA Pre-Courses stattfindet, erfolgreich bestanden und eine Stammvorgabe von mindestens -12,4 sowie einen Schulabschluss vorzuweisen haben. Weitere Informationen zum PGA Pre-Course sowie ein Anmeldeformular stehen unter www.pga.de zur Verfügung.