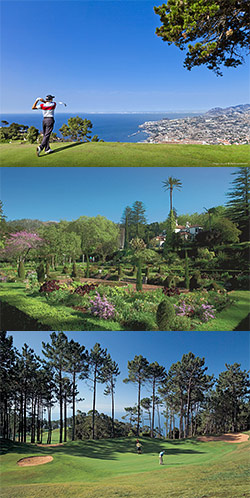 The spectacular Palheiro Nature Estate in Madeira is teeing up the summer for international golfers – offering peaceful open space, luxury accommodation, beautiful gardens and excellent golf – as the island's tourism gets back in full swing.
The exclusive country estate is renowned for its striking, tranquil surroundings – presenting the perfect escape for families or groups of golfers looking for a safe resort destination for their next leisure holiday.
With more than 200 years of history, beauty and elegance to its name, the estate is a verdant expanse of more than 150 hectares, perfect for bird watching or walking, with in excess of 25km of nature trails. It includes the stunning Cabell Robinson-designed 18-hole course at Palheiro Golf, the Relais & Châteaux five-star hotel, Casa Velha Do Palheiro; the Palheiro Village luxury villas and apartments; the award-winning Palheiro Gardens; and the Palheiro Spa.
Palheiro Golf is renowned as one of Europe's most picturesque and dramatic golf courses. Situated nearly 1,640ft above sea level, the location enjoys stunning views of Madeira's mountainous skyline and the Atlantic ocean from every hole, as well as – nestling below, just 10 minutes away – the island's capital, Funchal.
The par-72, 6,656-yard (6,086m) course meanders through a pristine environment of maritime pine and botanical woodland, garnished with lush, sub-tropical vegetation – taking full advantage of Madeira's hilly terrain, with abrupt ridges and deep valleys.
It is listed inside continental Europe's top 200 in one benchmark course ranking, and the presence of Casa Velha Do Palheiro hotel, secured a spot for Palheiro in the top 80 in two recent 'best European golf resort' lists.
General manager, Rodrigo Ulrich, said: "We are excited to welcome back golfers from across Europe to Palheiro – with safety at the forefront of our operation. We have implemented a range of safety measures and hygiene precautions to make sure everyone can relax, enjoy their holiday and focus on their golf – with all the stresses of the last few months taken away.
"We feel Palheiro offers the perfect getaway at this time, with the rural environment and gorgeous gardens and scenery providing the perfect outdoor escape for tourists to be at one with nature and rediscover their leisure time after a period of being stuck at home."
Palheiro Golf is one of two golf courses on Madeira – the other being the 27-hole Santo da Serra, redesigned in 1991 by Robert Trent Jones Snr – while a third, the Seve Ballesteros-designed Porto Santo Golfe, is located on the island of the same name just a 20-minute flight away.
Located approximately 1,000km from the European mainland – and just 500km from the African continent – Madeira enjoys an amazingly mild climate, ranging from 25°c in the summer to 17°c in the winter, with very mild average temperatures and moderate humidity, making it the perfect year-round destination for a golf break.
Palheiro Village offers golfers the chance to escape to a 'home away from home' in Madeira, with the privacy, flexibility and freedom that renting a luxury property brings, allowing those who want to distance themselves from other tourists the chance to do so.
Guests to the extensive range of villas and apartments can enjoy a host of discounts and benefits across the whole estate - including the golf course, spa, restaurants and swimming pool.
To celebrate reopening, Palheiro Village is offering 10 per cent discount on the unit rate and on packages, as well as 15 per cent discount when booking a second unit and 20 per cent off when booking a third. The offers are valid on all bookings made until October 31.