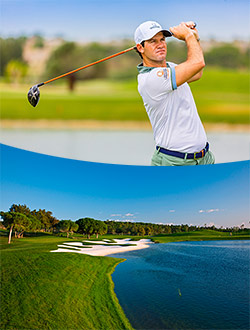 As Europe's premier golf and lifestyle resort, Quinta do Lago is famous for serving up an array of outstanding luxury golf experiences and this year is better than ever, with golfers being offered the exclusive chance to play golf with the highest-ranked Portuguese player of all time.
The award-winning Algarve venue has teamed up with European Tour star Ricardo Gouveia to provide players with the unforgettable opportunity to learn from the very best and play a round with the former world number 77.
Gouveia, 28, has a long-standing relationship with Quinta do Lago dating back to his childhood days growing up in the Algarve, with his family home located in the grounds of Laranjal, one of the prestigious venue's three championship golf courses.
Bookable for two or three players, the new 'Golf Pro Experience' includes 18 holes with a buggy on any of the resort's three courses. Subject to availability throughout 2020, prices start from €299 per person for two players and €266 per person for a three-player experience.
The introduction of the new package is the latest illustration of Quinta do Lago's commitment to delivering a variety of world-class golf facilities and experiences to its residents, members and guests.
In addition to launching a new online golf coaching service earlier this year, the resort is investing a further €7m in a golf course improvement programme this summer, including a major overhaul of its famous South Course and the reopening of its main golf clubhouse this month following a modern and sophisticated makeover.
Set amongst 2,000 acres of the picturesque Ria Formosa Natural Park and just a 15-minute drive from Faro airport, Quinta do Lago has been at the forefront of Europe's elite golf, sports and family destinations for nearly five decades.
As well as its three 18-hole championship golf courses and outstanding practice facilities, guests can enjoy an array of sports at the state-of-the-art performance centre The Campus, a world-class sports hub designed for professionals and amateurs alike to train and live well.
Complementing the golf is a choice of 12 first-class bars and restaurants that deliver a range of delicious local and international cuisines, with accommodation on offer at the resort's recently-acquired boutique hotel, The Magnolia Hotel.