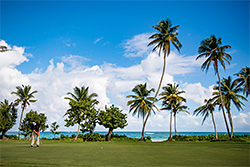 Puerto Rico has been named the No. 1 Caribbean Island by readers of AFAR in the travel company's annual Traveler Awards.
AFAR reaches nearly 1 million people per magazine issue, and its readers cast more than 150,000 votes in the annual Travelers' Awards to honor their favorite hotels, cruises, airlines, trips, and destinations.
An American territory, Puerto Rico shone with AFAR's collection of savvy, discerning travel aficionados. The Island's travel attributes include being bilingual, the air hub of the Caribbean, not requiring a passport for U.S. citizens, and offering scores of activities and amenities to enjoy within the tropical setting.
Puerto Rico's 18 golf courses, thousands of restaurants, scenic beaches, vibrant nightlife, biodiversity, and culinary options ensure visitors discover the Island in diverse, unforgettable ways.
Puerto Rico is a place where the Old World is mashed up with the new on an island that is small but offers an immense bounty of one-of-a-kind experiences. The discovery vibe resonates at each golf course located throughout the Island – from the northwestern tip to the east coast, with several in northeastern Puerto Rico near the capital San Juan. The Island's golf resorts, accentuated by tropical splendor and remarkable ocean views, are renowned for their first-class service and inspirational amenities.
Due to the COVID-19 pandemic, caution, patience, and discipline have been staples of the Island's proactive mandates designed to protect residents and visitors. Such diligence has allowed Puerto Rico to safely provide visitors with all that it has to offer, one of the things inspiring AFAR readers' appreciation.