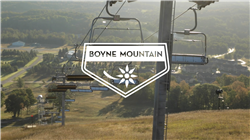 The largest family-owned golf and ski company in North America, Boyne Resorts, has had four of its golf resort properties nationwide listed among the 25 best U.S golf and ski resorts by the writers' of Golf Pass, the leading consumer digital golf membership platform powered by NBC Sports Group.
"Golfers and skiers are always at odds. Skiers can't wait for snow to fall. Golfers can't wait for snow to melt. Despite their differences, golf and skiing form a formidable twosome at resorts around the country. These two leisure pursuits anchor the summer and winter seasons, keeping these unique resorts open year-round," said Golf Pass in the article published in December.
Leading the way on the list for Boyne Resorts are BOYNE Golf in Michigan, including Boyne Mountain Resort and Boyne Highlands Resort (1), along with Sugarloaf (2) and Sunday River (20) in Maine, and Big Sky Resort (8) in Montana. They join other high-profile golf and ski destinations like Keystone, Omni Mount Washington, Park City, Stratton Mountain, and Sun Valley.
"Over the past six decades, Boyne Resorts has evolved into one of the top four-season golf and ski resort companies across North America and to be recognize together with many of our peers is an honor," said Bernie Friedrich, Senior Vice President Golf Operations and Resort Sales. "It is also a tribute to the vision of our founder, Everett Kircher, who wanted to create a company that could employ people year-round and used golf as the catalyst to make that happen."
A Detroit native and former Studebaker car salesman, Boyne founder Everett Kircher and two friends purchased property near Boyne City, Michigan in 1947 for a whopping $1 and developed Boyne's first ski hill, and it's been uphill ever since.
After nearly a decade of winter success, Kircher wanted to create a four-season destination and be able to keep his employees working year-round – enter golf. In 1955 the resort's first golf course was built, a 9-hole executive course.
As golf began to become more popular in the 1960's, Kircher was able to convince legendary course designer Robert Trent Jones Sr. to create a classic parkland course on the new Boyne Highlands resort into a top summer destination. In 1966, The Heather course at Boyne Highlands opened with Boyne's Scottish themes in place (Northern Michigan was thought to resemble the Scottish Highlands) while at the same time utilizing the property's unique elevation and water features. Thanks to instant appeal of The Heather, a spark was lit that launched the golf boom in Northern Michigan.
Over the next five decades, the Kircher family continued to expand the golf offerings every decade ushering in The Alpine and The Moor in the 70's, along with Big Sky. In the 80's, The Monument at Boyne Mountain and Donald Ross Memorial at Boyne Highlands, and in the 90's, Arthur Hills at Boyne Highlands and BOYNE's flagship property, Bay Harbor Golf Club were added. In addition, Sugarloaf Course has been managed by Boyne Resorts since 2007 and Sunday River has been part of the Boyne Resorts family since 2007, purchasing the Sunday River Golf Club in 2019.