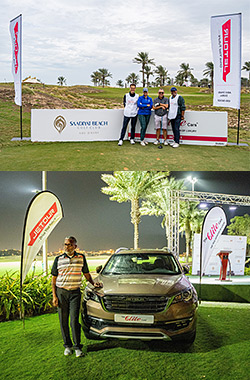 Saadiyat Beach Golf Club has successfully overseen its first-ever Elite Race Event Series. At the series' conclusion, The Elite Cars awarded Saleem Baji a 2022 Jetour X70, a seven seater Mid Crossover. Baji who had his name picked out of a lucky dip competition on 'Finals Day', beating other competitors to the prize, will also get free car insurance, a five-year warranty and a three-year service package, which comes as a complimentary benefit for all Jetour owners. Member Anita Wanningen was not so lucky though, despite winning the Series' six hole match play, she failed to bag the car despite earning 75 of the 100 tickets issued.
The Elite Race is an 'Order Of Merit' series played at Saadiyat Beach Club that took place from the end of 2021, through to 2022. Participants could play as many rounds in that period as they fancy, with each round contributing to a 'best six score' which allows players to win points that are accumulated throughout the series. The top eight players over the series then play in a match play 'Finals Day', which concluded at Saadiyat Beach Golf Club, followed by a prize giving ceremony and a celebratory gala dinner. All players competing had a recognised handicap from the Emirates Golf Federation (EGF) and paid 25 dirhams per round (in addition to the regular green fee), playing according to Stableford rules. It was great to see nearly 100 members and guests compete in the Series.
Commenting on the inaugural Elite Series, Lloyd Walton, Golf Operations Manager, Saadiyat Beach Golf Club, said: "The first ever Elite Race Event Series has been an incredible success, with the Grand Final being a great day out for our participating finalists to compete in. All those involved were treated to a fantastic experience and thanks must go to The Elite Cars. We continue to host unique experiences for both our members and visitors alike at all our Troon golf courses and after hosting our first-ever Elite Series, we look forward to welcoming everyone back again later this year along with some new faces for the first time."
Designed by golfing legend, Gary Player, the 18 hole championship course and top of the range practice facilities at Saadiyat Beach Golf club harnesses the beauty of the island and creates an unparalleled golfing experience with views of the Gulf's glittering ocean. The breath-taking Par 72 Saadiyat Beach Golf Club was the Arabian Gulf's first beachfront course and was also the host venue of the first Ladies European Tour event in Abu Dhabi, the Fatima Bint Mubarak Ladies Open. Voted 'Best Course in the UAE' in 2015 and 'Best Course in Abu Dhabi' in 2019 and 2021, World Golf Awards, Saadiyat Beach Golf Club is recognised globally as a world class golfing destination.
Commenting on the series, Shama Mohamed, Managing Director at The Elite Cars said, "The Elite Cars was very pleased to award Mr. Baji with an uber-luxe and exclusive Jetour X70. The series saw some excellent golf and we are happy to have partnered with Saadiyat Golf Beach Club. We look forward to hosting similar events in the future and giving as many people as possible the chance to experience The Elite Cars services."
The event saw participation from over 20 nationalities at Saadiyat Beach Golf Club. A total of 82 members of the club participated in the tournament and many of them played up to 20 matches over a period of three months, therefore increasing their chances of competing for the grand prize.