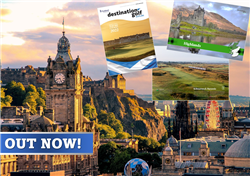 It was a gift that we are grateful for and today this planet of ours boasts in the region of 34,000 golf courses. Over 600 of them are here in Scotland.
The greatest early designers came from here – names such as Old Tom Morris (1821-1908), Willie Park Jr (1864-1925), James Braid (1870- 1950), and Donald Ross (1872-1948) spring to mind – and their legacy can be found on every fairway you walk because their creations helped to influence the generation of designers that followed.
'The Home of Golf' says it all and 2022 sees the hosting of the 150th Open Championship at St. Andrews. You can be sure that Prestwick - The Birthplace of the Open - will be celebrating the occasion.
In our 2022 guide you will find 100 exceptional courses*. Some are clustered together to the point they run into each other, while others sit miles from anywhere, clinging to a peninsula or tucked away on the islands that sprinkle the coastline like confetti.
Rich pickings are to be had and your toughest decision will be choosing where to start. Scotland boasts six excellent golfing regions. Everyone has their favourites, but our team have always been thrilled by the courses this country has to offer – indeed, many of them don't even appear in this Top 100, emphasising the country's quality in depth.
Scotland is not only about golf. It is a stunningly beautiful place to spend time and explore, and it boasts a proud and rich history… and even richer whisky. You'll have plenty of opportunities to combine all of these on one visit and sometimes on one course, so use this guide to map out the perfect golf trip.
The people of Scotland will welcome you with open arms.