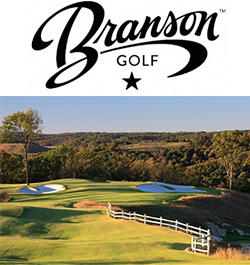 Late summer and fall are glorious times to play golf in Explore Branson's highly acclaimed destination. Ten courses – many of the mind-blowing, award-winning variety – sun-kissed weather, three lakes, hundreds of restaurants and lodging options abound.
Branson is within one day's drive – 12 hours or less – for 50 percent of the U.S. population (one-third is within 8 hours), and five of the state's top 10 courses are here (including the top four). For travelers who love mixing after-play activities with their golf, Branson reigns supreme.
The vibrant town of 15,000 residents draws approximately 10 million visitors annually, a testament to the remarkable number and variety of leisure options found here.
At the center of Branson's golf universe lies Big Cedar Lodge and its five courses – Payne's Valley (by Tiger Woods), Ozarks National (Bill Coore and Ben Crenshaw), Buffalo Ridge (Tom Fazio), Top of the Rock (Jack Nicklaus), and Mountain Top (Gary Player). The last two of those are par-3 short courses that beautifully complement morning rounds on the 18-holers with afternoon play.
Other 18-hole options in the destination include Branson Hills (Chuck Smith), LedgeStone (Tom Clark), Thousand Hills (Bob Cupp), The Pointe, and Holiday Hills. Branson Hills is a Top 10 ranked course in Missouri and earned a No. 32 ranking nationally from Golfpass and Golf Advisor players. LedgeStone and Branson Hills are particularly popular thanks to their creative designs, undulating Ozarks terrain, and their player friendliness.
All 10 Explore Branson golf courses are open to the public and range from luxury resort to daily fee options. Located close to one another, the courses are situated near iconic Silver Dollar City theme park, museums (Titanic and Ancient Ozarks Natural History), wineries, distilleries, and countless other attractions without losing their idyllic settings amid the Ozarks' natural bounty.