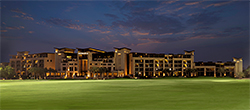 Luxury Abu Dhabi destination hotel, The Westin Abu Dhabi Golf Resort & Spa is welcoming its golfing guests again, allowing the hotel to deliver on its reputation as the 'go-to' golfing hotel for international golfers visiting the Middle East.
Situated in an enviable position alongside the world-famous Abu Dhabi Golf Club, making it a truly essential part of the Abu Dhabi Golf Club experience. The golf club is host to the Abu Dhabi Championships and one of only eight tournaments which are part of the European Tour Rolex Series. In addition, the resort is also in very close proximity to Saadiyat Beach Golf Club and Yas Links meaning golfers can step off the plane, check in to the hotel, then hit the fairways within the hour.
The resort is now 'Go Safe' certified, launched by Abu Dhabi's Department of Culture and Tourism (DCT) to certify the capital's hotels and tourist attractions. To obtain 'Go Safe' clearance, venues need to undergo rigorous guided self-assessments on hygiene, social distance readiness and tourist safety.
Commenting, Matthias Widor, Cluster General Manager said: "We are a true hub for global golfers looking to experience the Westin hospitality as well as the famous Desert golf and we are already receiving bookings from golfing groups eager to visit this wonderful destination. We continue to offer the legendary Westin Welcome and provide them with a relaxing and safe holiday environment".
To cement its reputation as a true golfer's hotel, The Westin Abu Dhabi Golf Resort & Spa has once again been nominated as the United Arab Emirates' Best Golf Hotel 2020 as well as Abu Dhabi's Best Golf Hotel 2020 which the venue won in 2019.