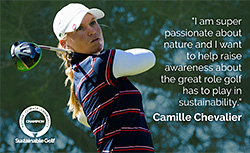 Camille Chevalier has become a Sustainable Golf Champion - partnering with the non-profit GEO Foundation to help support the group's mission to advance sustainability in and through golf.
The move follows in the footsteps of nine-time Solheim Cup player Suzann Pettersen and represents another significant step forward in building a community of credible champions across the sector.
As part of this network, Camille will work closely with GEO Foundation to promote and celebrate the positive impacts golf has on nature and people, as well as encouraging further action on key issues such as pollution prevention; resource efficiency and climate change.
In addition, all activities will be closely aligned to The Ladies European Tour sustainability initiative -  "Celebrating the Green, presented by Dow", which was launched last year and aims to showcase environmental, climate and community action across women's golf and celebrate sustainable activities stemming from players, tournaments, venues and partners.
"I have always had a special relationship with nature and the outdoors - one of the main reasons I have loved golf is because it takes place in beautiful environments," said Camille, who won the Hero Women's Indian Open in her first season on the Ladies European Tour. "My interest naturally evolved towards the preservation and protection of nature as I grew up during a period of increasing awareness of the impacts of climate change, plastic pollution, biodiversity loss and the need to live more sustainably.
"As a golfer, I used to practice a lot at Le Golf National and became particularly interested in the course preparation and maintenance, learning a lot about turf and agronomy from passionate people. Now on Tour I am always looking at the different ways of managing the course environment.
"Golf courses can play a key role in creation and preservation of local ecosystems. Biodiversity is very rich throughout a golf course environment and can flourish in areas subjected to very little or no maintenance. This way, local species can develop and blossom naturally.
"And it is important golfers look around them when they play. They can marvel at landscapes and wildlife that can be found on the course - to be amazed is already a first form of action to protect the ecosystem. By keeping this close contact with nature we become aware of its need for protection.
"I am excited about working with the GEO Foundation, exploring how I can live, work and play more sustainably and help celebrate all the good things that are happening in golf for nature and people."
Camille joins a growing community of Sustainable Golf Champions across the sport, a group which also includes course and club managers, and association leaders who are making real and measurable contributions to sustainable golf. As well as promoting the positive activities throughout golf, as a Sustainable Golf Champion Camille is committed to becoming a "Climate Neutral" golfer. To do so she is calculating all unavoidable travel emissions each year relating to her playing schedule, and offsetting those in the most credible and impactful way using an approach developed by GEO in direct partnership with The Gold Standard.
Jonathan Smith, Executive Director, GEO Foundation, said: "Athletes have the power to draw wide attention to really important issues as well as inspire change. We are very excited about the energy, passion and commitment that Camille will bring to driving sustainability in and through the sport.  We hope that more professional players with follow her own and Suzann's lead, and step forward as champions for sustainable golf."
Emma Allerton, Commercial Director at the Ladies European Tour added "As an organisation, the LET is also seeking to demonstrate leadership in sustainability and climate action through our 'Celebrating the Green' initiative, and this will also give Camille a wonderful platform to help raise awareness of some of the issues and the solutions throughout golf and inspire her fans around the world. Sustainability needs a big team effort, and we welcome others across the LET community to join and take action."